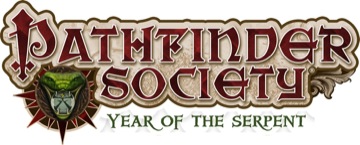 Event Horizon Games
1496 Garner Station Blvd.  Raleigh, NC 27603      
Phone:  (919) 977-4009

*  *  *  *  *  *  *  *  *  * 
Game Theory
5910 Duraleigh Rd #125, Raleigh, NC 27612
Phone:  (919) 787-4449
*  *  *  *  *  *  *  *  *  *
Gamer's Armory
683 Cary Towne Blvd.  Cary, NC 27511
Phone:  (919) 238-4817
*  *  *  *  *  *  *  *  *  *
This is primarily a Pathfinder Society event running Pathfinder Society scenarios and modules. Register and log in to sign up for tables. Although you should sign up on this site to play, you do not have to be a member of the Pathfinder Society to start playing; you can be get a membership number to join the night you visit the store to play (which is free).
Event Horizon Games, Game Theory, & Gamer's Armory host these games (and charges us nothing for the privilege) so you should buy stuff from them.
Event Horizon hosts games on Tuesday [start 6:30pm] and Sunday [start 12 noon]
     Contact Curtis Jones for more info if you have questions.
Game Theory hosts games on the 1st and 3rd Sunday of the month [start 12 noon]
     Contact Michael Payne for more info if you have questions.
Gamer's Armory hosts games on Friday [6:30pm start]
     Contact Daniel Pink for more info if you have questions.
*  *  *  *  *  *  *  *  *  *
Please visit the official Pathfinder Society website for more information about Pathfinder Society. Download the Pathfinder Society Guide to Organized Play and visit the Additional Resources Page to see what options are legal for play in Pathfinder Society. Remember that in order to use an option, you must own (and have with you) either a physical copy or official watermarked .pdf (with relevenat printed pages or loaded onto a portable electronic device) of the sourcebook (Hero Lab is not a valid source).
__Additional info___
Players on a waitlist (with a ? after their name) are not guaranteed a chance to play that night. 
If you cannot make a game you have signed up to play, please remove yourself from the play list by 6pm the day of the game. If you remove yourself from the play list on the day of the game, please e-mail the organizer [listed above] to inform the organizer, GMs, and your fellow players not to expect you. Please do not sign up to play at more than one table on the same night just to try to ensure a seat - this will result in immediate de-listing.
If you have problems with warhorn.net, please email the coordinator as soon as possible, so he has plenty of time to fix the problem.