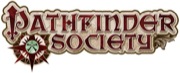 On Golarion, the world of the Pathfinder Chronicles campaign setting, the Pathfinder Society is an organization of explorers, vagabonds, sages, and treasure hunters determined to plumb the depths of the darkest tombs, and collect relics and lore from bygone ages. They travel the world braving traps, monsters, assassins, dangerous natives, and worse, all in order to preserve the secrets of the past and to advance understanding of Golarion's many cultures.
Some Pathfinders are dedicated explorers who risk life and limb in the pursuit of ancient lore, or lost historical relics. Just as many Pathfinders are little more than feckless mercenaries, glory hound adventurers, and gold hungry tomb raiders. Regardless of their intentions, every member shares one common dream: to contribute to the Pathfinder Chronicles, printed editions of secret lore coveted by the Society wherein only the most impressive finds and bravest exploits of the Pathfinders are immortalized. Pathfinders also follow a loose code that governs their actions: Explore, Report, and Cooperate. Pathfinders are a diverse bunch of scoundrels and wanderers. Their loyalties lie on all shores of the Inner Sea, and beyond their adventures as Pathfinders, they often find themselves mixed up in the murky politics of Absalom and the five nations who seek to control the City at the Center of the World from behind the scenes. The campaign centers on the sprawling city of Absalom, where five factions engage in a shadow war for control of the city's politics and economy.
Pathfinder Society Utrecht will be held in Labyrinth, Oude Gracht 207, Utrecht. Please register if you want to join!
To keep up to date on all pathfinder events in the Netherlands, Visit